Sarah Huckabee Sanders, former White House Press Secretary, presents her new book Speaking for Myself virtually through Zoom.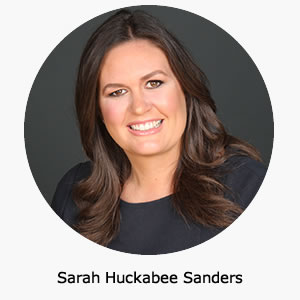 A Ticket Is Required For This Virtual Author Event.
Registration Is Free
About This Event
**This is a virtual event that will be hosted on Zoom - you will need access to a computer or other device that is capable of accessing and sufficient Internet access. If you have not used Zoom before, you may consider referencing Getting Started with Zoom.**
Doors open at 6:45pm (ET). Please arrive early to the Zoom waiting room to be checked in to avoid any technical difficulties. Show starts at 7:00pm (ET).
SARAH HUCKABEE SANDERS served as the White House press secretary from 2017-2019; she was the third woman and first mother to ever hold the position. The daughter of former Arkansas Governor Mike Huckabee, Sanders has worked in leadership roles for U.S senators, governors, and presidential campaigns. Sarah has been recognized in TIME Magazine's "40 under 40" as one of the best political operatives of her generation. She is a Fox News contributor, advises major companies, and serves on the Fulbright board as an appointee of President Trump. Sarah lives in Little Rock, Arkansas with her husband Bryan, their children Scarlett, Huck, and George, and their golden retriever Traveler.